Watches, glasses, handbags, cell phones and medical devices, among others, are subject to vibrations and shocks that naturally cause loosening of the screws assembling them.
These screwed assemblies must be locked in order to increase their quality and reliability. In the 1980s,
we developed the locking-by-bonding technique on micro-screws for a large luxury brand, which today remains loyal to us.
Our customers are major luxury brands, specialised particularly in watchmaking, eyewear, leather goods, jewellery, electronics and aeronautics defence.
We propose two solutions for locking by bonding of the S0.7 to M2 micro-screws :
Locking by bonding with micro-capsules :
– The technique consists of pre-coating the threads with a micro-encapsulated adhesive, which is activated during assembly.
– During assembly, the microcapsules burst, releasing the adhesive that polymerizes and bonds the threaded components together.
– This is the most effective locking solution.
Reusable locking by polyamide :
– When tightening the screw, the polyamide patch on the thread is compressed. The radial tension created by the product's elastic deformation increases the friction and results in locking.
– As the polyamide deformation is partially reversible, locking is also reversible; therefore, the part can be assembled and disassembled several times.
– Polyamide has two other functions versus unpatched screw :
1. Dampen vibrations to avoid screw loosening
2. If the screw loosens, it is not lost.
– Locking is activated immediately after mounting.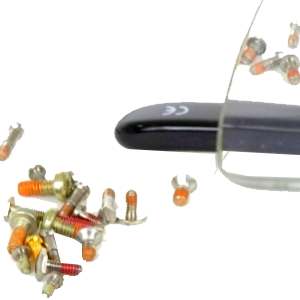 Pre-coating effectively replaces the traditional techniques of mechanical locking and adhesion by liquid threadlockers.
Our process allows to pre-coat a large number of micro-screws and pins in both boxes and bracelets : boxes screws, decorative screws, bracelet screw, folding clasp screws, links extension screw, without head screws, motion screws, cage door screws, crown screws, …
We use different processes to treat all types of screws, but also set or fine-headed axles.
Our machines suited to parts from S0.7 to M2.
The length and thickness of the coating are determined for each application according to the assembly parameters : number of threads engaged, part in the assembly, thread quality, parts material, etc.
For the technical validation of our solution, we provide sample batches for tests by the customer. We can alsoacheive torque measurements on customer parts, in that case we provide a trial report.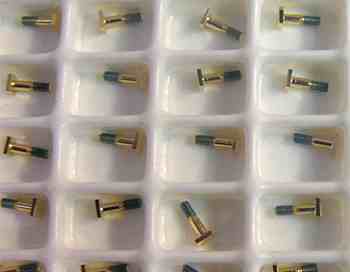 SPECIAL SERVICES & PACKAGING
All incoming parts are inspected : we count the batches and verify them visually.
The parts are processed and dried so that the patch is dry to the touch. They are then packed in airless bags.
For fragile parts such as polish parts, we process them individually : the parts received in cells are processed one by one using pliers and unitary controlled by operator.
Small batch production bags can be offered.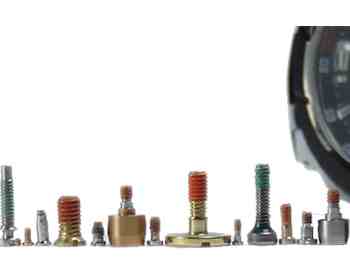 | | | | |
| --- | --- | --- | --- |
| | H Lock 2510 | H Lock 2353 | H Lock Polyamide |
| Colour | Orange | Blue | Green |
| Type | Microencapsulated adhesive | Microencapsulated adhesive | Polyamide resin |
| Function | Strong locking and sealing | Standard locking | Reusable locking |
| Standard coating length | 5 to 6 threads | 5 to 6 threads | 4 to 6 threads |
| Curing time at 20°C | 5 days | 3 days | Immediate locking |
| Number of uses | 1 (to 2 in some cases) | 1 (to 2 in some cases) | 5 |
| Locking torque on tightening (Cfv) | Low | Low | Average |
| Loosening torque (Cdes) | High | High | Average |
| Resistance to vibrations | Excellent | Excellent | Good |
| Resistance to shocks | Excellent | Excellent | Good |
| Chemical resistance | Good | Good | Good |
| Guaranteed sealing (oil, UV, grease) | Yes | Yes | Yes |
Comparisons of different solutions for watch-making screw assemblies
H Lock 2510 & 2353
H Lock Polyamide
Thin elastomers
Liquid threadlockers
Ease assembly
Resistance against
vibration and shocks
Reusability
Process reliability
Cleanliness
Capability
Capacity
Quality
Preservation of part's appearance
Price