Reusable locking function
The reusable locking function is obtained by pre-coating the threads with plastic polyamide.
During the assembly, the patch of polyamide on the threads is compressed. The radial tension created by the elastic deformation of the product increases the rubbing which triggers off the locking.
The locking effect is reusable as the deformation of the polyamide is partially reversible allowing the part to be mounted and dismounted several times.The locking function is inmediately active after tightening but the screwing torques are more sensitive than those that have been bonded.
To obtain the repositionable locking function, we place a polyamide resin on all the circumference of the threads. The breaking torque can therefore be adapted to the applications as required.
CHARACTERISTICS AND PRODUCTS
The polyamide patch is particularly indicated for the adjustment screws meaning that this can be repositioned several times. We also use this technique to realize the provisional positioning of pre-mounted screws that are waiting to be tightened. This type of reusable locking is also known as «Nylon locking» and can also be used for parts that must be regularly dismounted.
| | | | |
| --- | --- | --- | --- |
| Suppliers | Products | Colors | Functions |
| | Precote 10-1 | Green | Low strength + reusable locking |
Our processes are ISO 9001 certified and fulfill specific requirements in the automotive industry.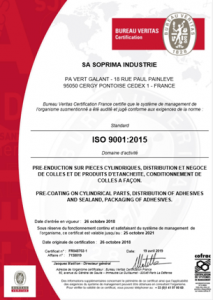 Our products are approved according to many standards:
Renault CDC 39.02.010
PSA B14.12.35
DIN 267-27
IFI 25/525
BS 7795
GM 6175
FORD WX200 & 201